Most if not all of these sweaters have a "Chrstmasy" feel to them. But as far as I'm concerned, Christmas starts right after Halloween (November in case I wasn't being clear enough). Most, if not all people reading this might tell me I'm crazy; Thanksgiving is next! Very true, but I know you've noticed it too. The Christmas lights are already going up! People are exhibiting their right to holiday cheer! Thanksgiving is great, hands down, who doesn't love food and family?! It's never to early to show some spirit though. So why not do it in style! I know I promised you ugly sweaters, but even in the title, "ugly" is in quotations. Imagine those Dr. Evil laser fingers when you think of ugly in this context. Because I don't think all of these sweaters are ugly. In fact, these are sweaters that I might wear at a family get together or when hanging out with friends (which might be why I don't have many). These should be your go-to party sweaters this holiday season. Check 'em out!
1. UGLY THANKSGIVING SWEATER
Are you happy? I sifted through so many turkey sweaters, I literally lost my appetite! Anyways this sweater says it all. You've got turkeys, food, pilgrims, and pumpkins! I like the inclusion of pumpkins because it's acts like a transition from Halloween to Thanksgiving. Clever! In fact, the other sweater that almost won had a picture of a pumpkin and the pi (π) symbol on it. Get it? Funny and clever, I love it! Anyways, I guess the only thing this Thanksgiving sweater is missing is some cornucopias and maybe some Indian feathers? Can't forget about them can we (seriously though)? I'm no graphic t-shirt designer, but I could make this sweater better. Sure, it's not perfect, but it will get you through those social situations. Have fun! This sweater (like most on this list) screams "look at me!" so you better be able to handle the attention!
2. UGLY DRAKE SWEATER
Maybe you were expecting different kinds of sweaters? That's okay, mistakes happen. I'm sure you can find plenty of great ugly sweaters online or the store. I just want to inspire people to be clever with their clothing! If you know who Drake is, then you know his "Hotline Bling" video has exploded online. It's also turned into a meme sensation. That's why this sweater works so well. You see there's Drake dancing, a cell phone, and of course bottles of champagne to give it some class. I assume Drake drinks champagne regularly, if his songs are any indication. My favorite part about this sweater are the snowflakes floating around. Haha it gives it that "winter time" feel that is oh so appropriate during this time of year! However, I should warn you that this might be the only year it is appropriate. So maybe not the best choice if you're trying to get multiple uses out of it. I know how that sounds and it's a perfect example of the 1st world.
3. UGLY DINOSAUR SWEATER
If you love dinosaurs like Ross from "Friends" loves dinosaurs then why not get a dinosaur sweater?! It makes perfect sense. It was really hard to choose, this one because there are so many great ones out there. We can't forget that "Jurassic World" came out this year so that, of course, inspired a lot of creativity! I like this one because it kind of looks like a T-rex couple is celebrating Christmas. That's a weird mental picture, but when you put it on a sweater it just works! And of course, there are Christmas trees and snowflakes that really pull it together. My favorite part about this sweater is that it's actually a popular design so there is even baby clothes that have the same picture on it. Can you imagine how adorable that would be? I don't even want to try, but nevertheless this ugly sweater will definitely keep you on your A game this season! Get a couple for the whole family! 
4. UGLY HARRY POTTER SWEATER
Some of you might argue that there is no such thing as an ugly Harry Potter sweater and I'm right there with you. Remember "ugly" in this context mean cool, clever and lets not forget stylish! This sweater stood out to me because, well Illuminati for one and when I realized what it was, Harry Potter all the way. If only there were enough time in the day to watch all those movies again. Actually there is! 19 hours from start to finish with no breaks. I don't know how I know that, but trust me. Anyways Harry Potter is great obviously. We got his glasses and lightning bolt! Even his Gryffindor scarf! How cool is that? Of course, we also have the Deathly Hallows symbol, snowflakes and reindeer to really bring this sweater together. All in all, this sweater will allow you to have a wicked Christmas!
5. UGLY STAR WARS SWEATER
Okay, I kind of regret not putting this one first. Star Wars is better than words, so I'll just leave it at that. I will say that Star Wars is huge right now. We're getting the Force Awakens (Star Wars VII) next month! Who isn't excited about that? I wouldn't know them. Anyways, this sweater just shouts"Star Wars" and "Christmas" and what a pretty sight! There were A LOT of sweaters, so please cut me some slack! I'm not saying you have to wear this one, just know there is no lack of selection if you want to show off your Jedi prowess while showing some cheer at the same time! We have Darth Vader on his Sith Sleigh, being pulled by Imperial Reindeer, and heading toward the Death Star! It doesn't get much better than that. Not to mention he is wearing a Santa hat and it's somehow snowing in space. I love everything about it and I think your friends will too.
6.  UGLY MARVEL SWEATER
Yes, I realize that this isn't a sweater, but the design makes it totally worth it! If you don't like superheros, I wouldn't recommend this one. But I do like superheros so I thought I'd throw it in! We have Iron Man, Captain America, The Hulk, and Thor all clearly represented and celebrating Christmas. Could you imagine that party? Sounds like a good time. I do like the idea of this design on a sweater. My only issue with it is that the red and green border along the top and bottom look like red and GREEN lanterns (cough cough). Yeah, the Green Lantern isn't Marvel. Don't get me wrong, I love DC too, but if they wanted to intentionally include DC in this superhero shirt, they should have gone with Batman! Just my thoughts. There are a lot more "super" ugly sweaters out there! You should own one!
7. UGLY SMASH BROS SWEATER
Was there ever a better feeling that kicking your friends butt on Super Smash Brothers? Precisely the reason why I love this sweater so much! All of the best characters! Pikachu, Mario, Mega Man, Link, Sonic, Samus , Kirby, Donkey Kong and Pac-Man. That's right, Megaman and Pac-Man are smash bro now, just in case you weren't keeping up. If only Yoshi and Fox were on there… Then it would be perfect. Anyways, it looks like they're all ready for the holiday season. What about you? This sweater is great because it's very nostalgic. Instant conversation starter. Everybody has a history with at least 1 of those characters. My favorite part is Donkey Kong wearing the Santa hat. That monkey dresses better than most people! Smash your way through the season with this sweater!
8. UGLY MINECRAFT SWEATER
You don't play Minecraft? Well definitely don't start! You don't have enough time for that game. Minecraft is probably one of the most addicting games out there. I would say it's on the same level as World of Warcraft. The game will consume you! Kind of like this sweater! If you're not familiar with Minecraft, you might miss the pick axes and swords lining the top and bottom. Because it kind of looks like a jumble of weird shaped snowflakes from far away. Either way, this sweater will keep you warm and stylish and most importantly: safe from creepers! If you don't know about creepers, you're lucky! They're the bane of any miner's existence. You can find the creepers under the pick axes and their eyes and mouth above the swords. Right? Like I said, it all blends in well with the snowflakes. But you'll most definitely stand out with this skin!
9. UGLY ABOMINABLE SNOWMAN SWEATER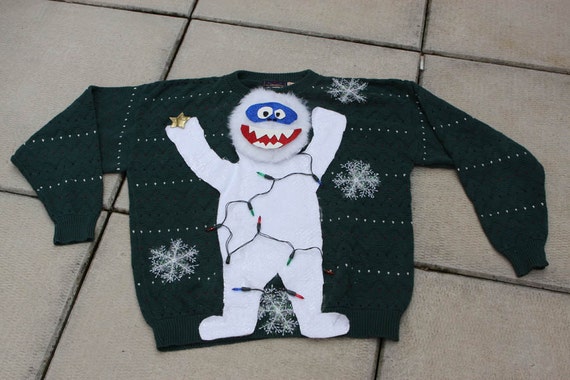 I feel like I should apologize for this one. You really can't get much uglier than this. This time I mean ugly for real though. I really hope those lights strung across the Abominable Snowman work. That would really pull this work of art together. I say work of art because it takes a special kind of talent to come up with something this intentionally bad. I know, I'm being critical. I just wanted a good snowman sweater and none of them even come close to this one. I'm sorry, but this is going to be the closest we get to a Rudolph sweater. I'm sorry! Just know that there are plenty of sweaters out there that are perfect for any occasion you can think of! These sweaters are more like suggestions than actual recommendations. Trust yourself and you will choose the perfect sweater for you! I believe in you!
10 TAKE YOUR PICK
Okay, all of these sweaters are genius. This is a scene from "The Night Before". The movie is hilarious. I haven't even seen it yet, but of course it is! First, we see Seth Rogen wearing that ugly Jewish sweater. It's so funny because they're called ugly CHRISTMAS sweaters and seeing the Star of David on one is such a perfectly executed contradiction! However, if you're not Jewish I wouldn't recommend this one. Anthony Mackie looks like he's ready to celebrate in a fun way! And I say that without looking at the expression on his face, but at his super stylish "Black Santa" ugly sweater. Once again, if you're not black.. Do I even need to continue? And finally Joseph Gordon-Levitt sporting the ugly moose sweater. Let's just call one of those moose Rudolph and call it even! Unlike the other sweaters, this one is least likely to offend someone. So I'd choose this one 10/10.
Well I hope you found some inspiration in this post! Don't let this holiday season pass you by without expressing yourself through ugly sweaters! Does anyone why we started this silly tradition in the first place? It doesn't matter! All I know is, love it or hate it, ugly sweaters are here to stay!